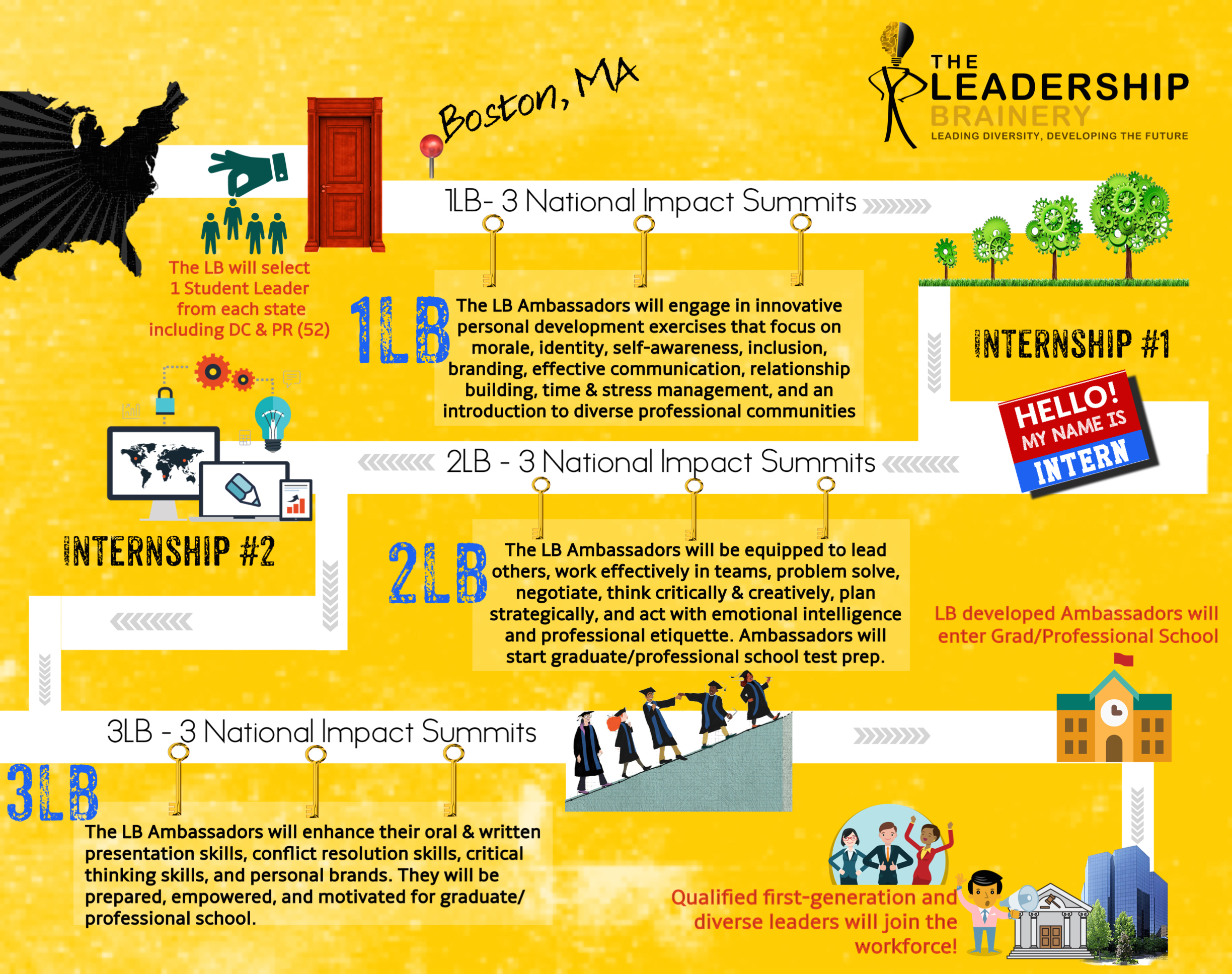 We believe exposure and development are the correct methods to pipeline more first-generation and diverse leaders into the workforce and leading academic programs. During our three-year cohort program, we focus on long-term development and preparation for effective social and professional engagement. Once our student leaders graduate college, they will be prepared to enter top graduate/professional schools and lead at their best potential.
Overview
1) Each year we select 52 first-generation and diverse rising college sophomores (One from each state including Washington D.C. & Puerto Rico). Each Ambassador commits to our cohort program for three years (through senior graduation).
2) Each Ambassador attends 9 National Impact Summits throughout the Fellowship (Each Fall, Spring, Summer).
3) Each summer the Ambassadors obtain an internship that challenges and strengthens their personal and professional development.
4) Each year Ambassadors will engage various Campus-based, Community-based, and National projects to enhance their strategic planning, writing, and critical thinking.
5) Ambassadors undergo strategic preparation for graduate/professional admissions tests and admissions processes.
Qualifications
1) First-Generation and/or Diverse Student (Racial/Ethnic Minority).
2) Rising Sophomore — At least one year of education from an accredited 4-year college/university at the time cohort begins, and at least two summers left before completing degree.
3) Must be an active member of a student or community organization.
4) Dedication to hard work, justice, leadership, and unity.
5) A demonstrated and continuing commitment to diversity within your school and/or community.
6) Interest in graduate/professional school.
Selection Process
1) Student leaders must first be nominated by a university administrator, professor, community organization, or peer.
2) Select students are invited to submit application materials & video presentation.
3) 52 first-generation and diverse Student Leaders will be selected as LB Ambassadors